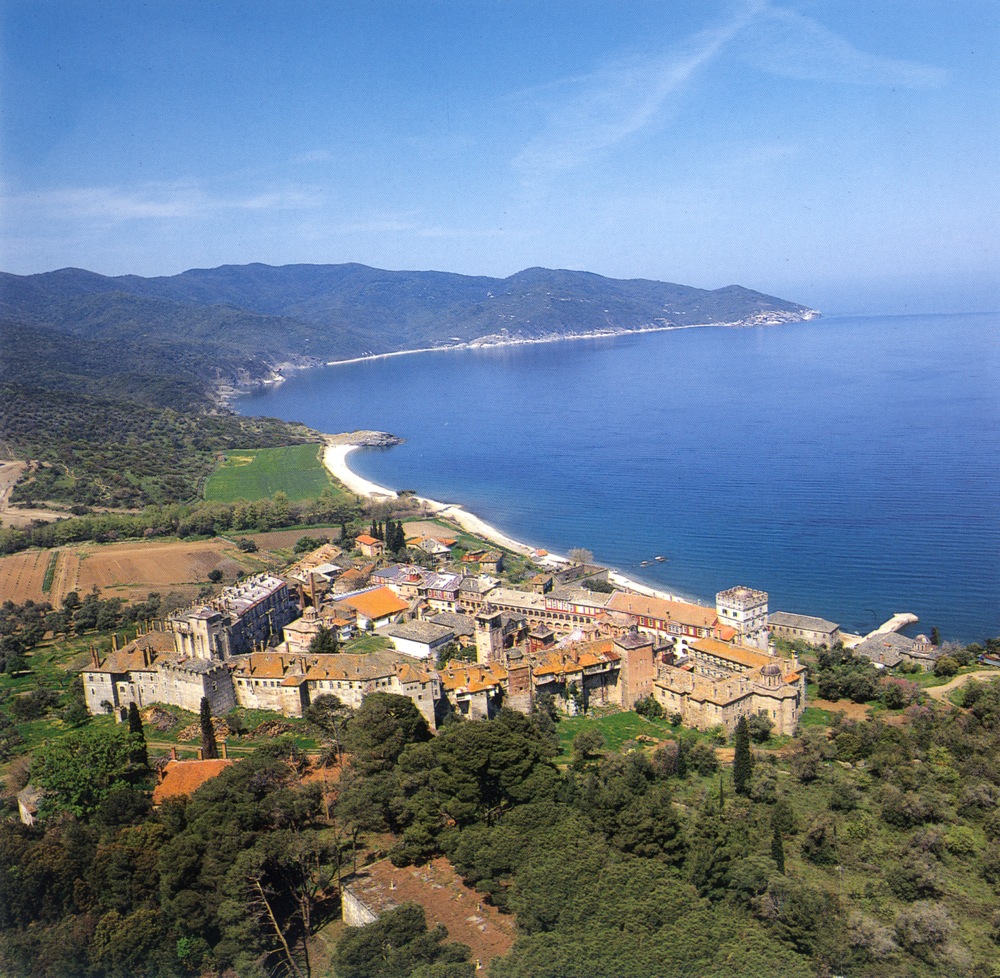 The area in which the Monastery of Vatopaidi is located in the middle of the northern side of the Athos peninsula, in one of the most fertile parts of the Holy Mountain. It borders on the property of the Monasteries of Pantocrator, Konstamonitou, Zographou, Xenophontos, Docheiariou, and Esphigmenou, while to the north it is on the edge of the waters of the Strymonic Gulf. It is on the southern edge of this area that the imposing building complex of the Monastery stands, on a wooded hill which rises to the south of the mouth of the Platanaras seasonal river. Its shoreline is for the most part precipitous and rocky, with the exception of the area to the west of the Monastery, along the side of the Hatzavra field. The area of the Monastery's property is approximately 43 square kilometres, and it rises to a maximum height of some 650 metres above sea level in the area of its boundary with the Docheiariou Monastery.
On the more mountainous planted slopes there are chestnut and oak woods, while at lower levels evergreen and broad-leafed trees are more common, with scattered fields and areas for forestry cultivation. The relief of the terrain has variety, but without particularly strong contrasts, and the abundance of water which runs from the plentiful springs has resulted in the creation of a peaceful natural landscape of incomparable beauty .
The region is criss-crossed by a complex of pathways and forest roads which ensure the Monastery's communication by land with Karyes, other monasteries, its dependencies and the woodland. This is particularly true of the eastern half of the area, where there is also a greater density of buildings. Although an important part of the road system is modern, the Vatopaidi Monastery has a noteworthy network of cobbled mule tracks. Because of the importance of the Monastery, its geographical position, and its connection with the Skete of St Andrew at Karyes, this was already well-constructed and extensive in the mid 19th century.