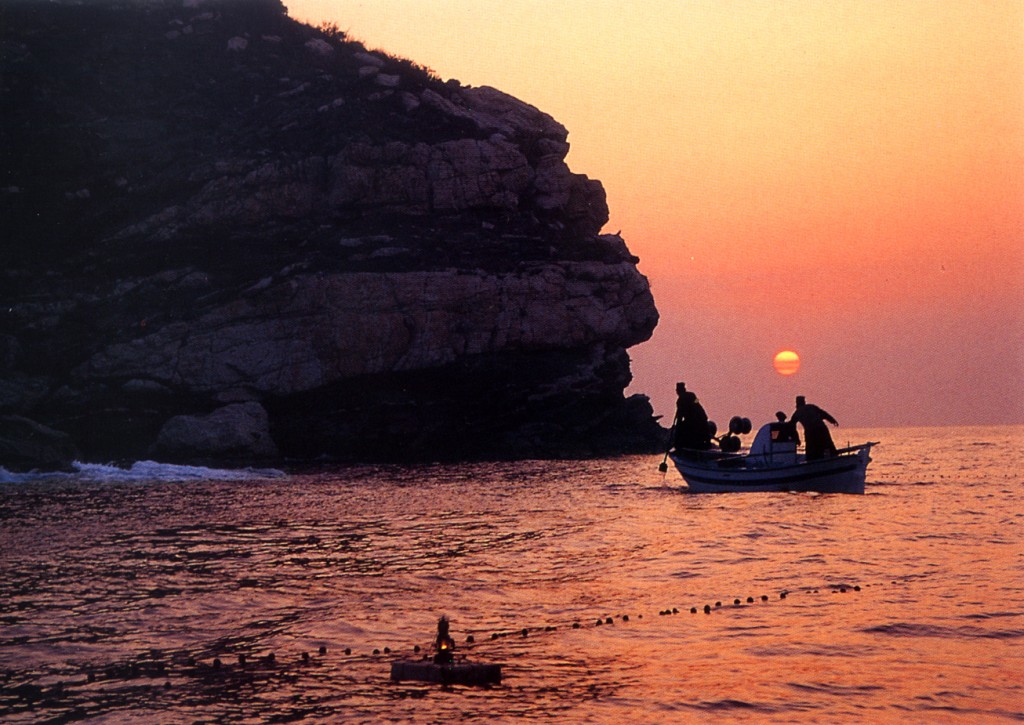 In order to meet the basic everyday needs of the monastic community, a mark of which was self-sufficiency, it was necessary to develop a complex of activities in the space which the Monastery had for production and in the outside world. The farming of the land, forestry, fishing, processing of agricultural produce, the transporting of supplies and the movements of monks and laymen, building work and the maintenance of buildings and equipment were some of the basic activities to which special attention was always given. Thus, by degrees, an extensive system of buildings and other installations grew up in the immediate and the broader environment of the Monastery to minister to them.
The production of wheat, wine and olive oil, basic constituents both of the Monastery's liturgical life and of its everyday diet, were from Byzantine times objects of special concern. We know that at that period, the Vatopaidi Monastery produced significantly more of these than most of the monastic foundations on the Holy Mountain. Wheat was produced chiefly at the Monastery's metochia* in Chalcidice and brought from there by boat, to be stored in the barn on the shore. The olive orchards, however, and the vineyards were on the Holy Mountain.
The vineyards which the Monastery looked after itself had a total area of at least three hectares. In the late 19th century, these were 'tou Hatzavareos' (or 'Hatzavra'), 'tou Ovorou', 'tis Armatomenis', and 'tou Aghiou Charalambous', which are identical with the present-day vineyards. There were also the vineyards of 'Anthimos and Vartholomaios', of 'Hatzigrigoriou', and of the 'Despotis', which in all probability took their names from someone who had cultivated them in the past, and do not correspond to those in use today. Until the War, vineyards were kept up on most of the above sites. At that time, the Hatzavra vineyard was used for the growing of maize, and more recently it has been used for wheat.
There were olive orchards both in the gardens close to the Monastery and in various parts of the more general area. The number of olive trees cultivated up to the beginning of the century was approximately 25,000, of which a thousand were round the Monastery's precinct. There are olive orchards in the 'Armatomeni', 'Chera', 'Xepatimata', 'Aghios Onouphrios' areas, either side of the Platanariou stream, on the Athionada shore, at 'tou Katsarou' and at 'Keramydenia Kalyva'.
Great importance was attached to fishing. Jetties and fishermen's houses (small arsanades*) were constructed on the sea-front, since fish was a basic constituent of the diet of the monks.